PVL – Umbauten
Scooter Minarelli-Motor with free programmable PVL-ignition
In racing, various ignition systems are used. One of the best systems is currently the PVL programmable digital ignition. It is easy to program, having a variable ignition timing, and an inner rotor with 340 g, where, if necessary, additional flywheel mass can be fitted. This ignition is used successfully not only in scooters, but also in motorcycles, snowmobiles and racing karts. The compact design allows&xnbsp;the ignition to be fitted in small engines, such as KTM 50, Minarelli and Piaggio engines, etc. Many engine manufacturers have been using PVL Ignitions for many years and equip their racing teams more often&xnbsp;with&xnbsp;the flexible free programmable systems.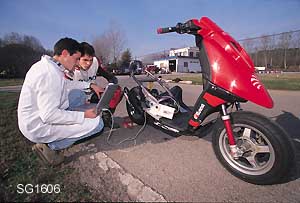 On Malossi or Selettra, Kundo or PVL Ignitions you can optionally when needed mount a so-called inertia flywheel&xnbsp;on to the rotor.&xnbsp;On the Malossi, flywheels are already included.&xnbsp; On&xnbsp;PVL and Kundo ignitions Flywheels can also be mounted, but these are not included in standard delivery. These flywheels are made from high tensile steel and must fit one hundred percent exact with the rotor. The material should be checked for cracks after processing and that they are finely balanced together with the rotor. The fastening screws must be secured with Loctite. At speeds up to 20,000 rev / min the smallest imbalance causing vibration&xnbsp;cannot only destroy the crankshaft bearings, but also&xnbsp;loosen the flywheel rotor and even the side pin. By using wrong materials (micro-cracks in the structure) there is a danger that the high rotational and centrifugal forces and the vibrations generated by the engine itself can cause the engine to explode.
Warning!
There is a great risk of injury, and we expressly point out that any warranty is excluded. Use only the manufacturer-supplied flywheels
Das Programmiersystem PVL# 508 60x … wird geliefert mit:
software
PicStart
Interface cable
power Supply
operating instrucctions
The PVL software allows you to generate any ignition curve, as interpreted by your engine. It also provides the following benefits:
User friendly
Fast load
Re-programmability
Available in two versions: Kart PVL # 502 60x and motorcycle PVL # 508 60x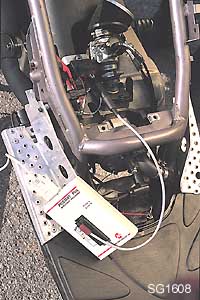 on the right image is a racing scooters equipped with a freely programmable PVL system. In most engines PVL adapter plates between the&xnbsp;engine housing and base plate are used. It should be ensured that as little heat as possible from the engine emits the ignition. It is possible to obtain adapter plates from us. Aluminum or a poorly thermally conductive plastic can be produced for almost all types of&xnbsp;engine adapter plates
Ignition Kit for the following models:
Aprilia Amico, Scarabeo, SR Replica, Rally 50
Beta Crono, Quadra 50
Italjet Pista, Scoop 50
Malaguti F-10, F-12
MBK Booster, Booster NG 50
Rieju Windy, First-507F10
Yamaha BW's 50-65, Sp, Jog, Jog R, Axis, Zest 50
Custom designs are feasible, Price on request..
Ignition curve 1
Auf einer Rennstrecke mit geringem Grip und engen Kurven wäre es beispielsweise eine gute Lösung, die Leistung im unteren Drehzahlbereich zu reduzieren. Daher zeigt die erste Kurve, dass wir den Zündzeitpunkt im unteren Bereich früher eingestellt haben. Als Resultat erreichen wir dieselbe Leistung, das Ansprechverhalten des Motors ist dadurch sanfter.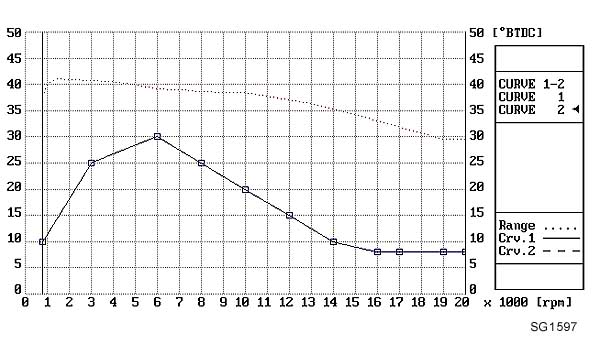 Ignition curve 2
The same case as above, but with better grip. Here we have in the lower speed range "sacrifice" no power.&xnbsp; As can be seen, we have adjusted the ignition timing, and the remaining curve remains the same.